Henri de Toulouse-Lautrec
Here are some facts about Telouse-Lautrec
> He was born in 1864 and died in 1901
> He was a post-impressionist painter and illustrator
> He documented the late 19th century Parisian Bohemian lifstyles in his paintings and drawings.
> At a yound age he broke both of his legs which stunted his growth for his entire life
> Telouse traveled to the Moulin Rouge and other Parisian nightclubs, circuses, and brothels capturing their essence in his original drawings, sketches, and paintings
> Telouse ultimately died from a paralytic stroke brought on by his alcoholism. BUT, at the time he was dying from syphilis.
> There is a Telouse-Lautrec museum that holds his works today in Albi, France.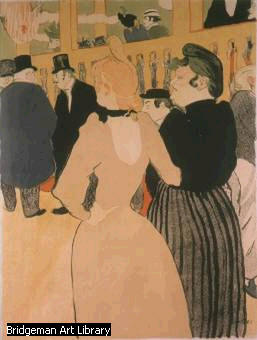 Le Goulue and Her Sister
at the Moulin Rouge